Getting a passing grade on an essay assignment is difficult if students don't know how to organize their ideas. Bloggers can also not get high SEO rankings when they plagiarize their writing. 
If you're looking for applications that help you write better essays, I compiled a list of the best essay writing software. These apps include both free and paid programs. I included tools to help you improve your grammar and an app that writes essays for you.
10 Best Essay Writing Apps
Grammarly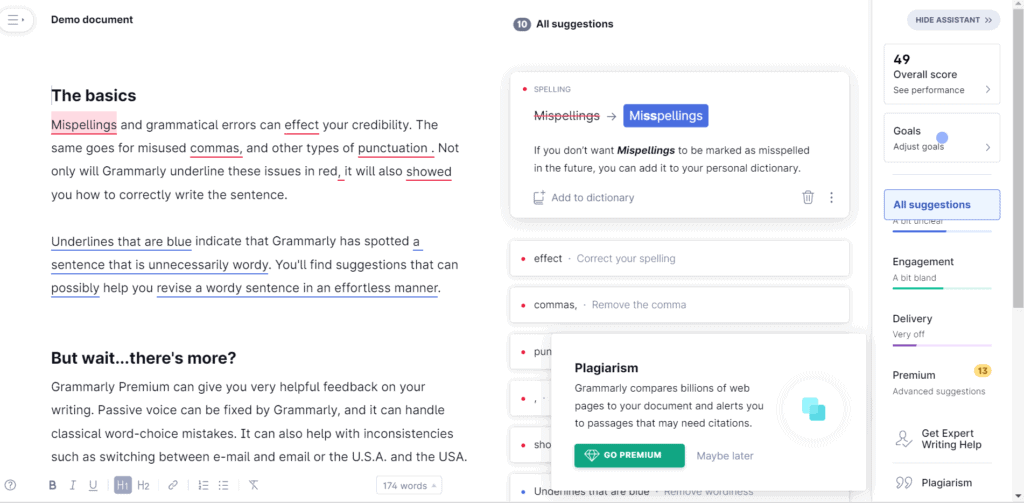 Grammarly is one of the best writing apps you can try for your essays. It helps you perfect your essay or any writing project by giving detailed explanations for its corrections. 
For instance, if you mistakenly use "see" instead of "sea" in your sentence, Grammarly will tell you why it's wrong. This editing software is the most popular writing tool because it focuses on correctness, clarity, engagement, and delivery.
While it doesn't help you summarize or format your essays, it can fix issues like your spelling, grammar, writing style, and punctuation. Grammarly lets you set your writing goals so it can tailor its corrections according to your essay's intent, audience, and emotion.
Grammarly Premium gives you access to a plagiarism checker. It examines your document against billions of websites and articles while providing links to any duplicate content. 
The editing tool has a more straightforward interface than ProWritingAid. Or you can download the free extension for Chrome and Safari if you want to receive real-time suggestions on Google Docs. 
Grammarly is also available as a desktop or mobile application, Grammarly Keyboard. The keyboard app quickly spots spelling mistakes and other issues on your text messages, email, and social media.
Pros
Built-in spelling and grammar checker.
Produces more grammar reports than other apps.
Guarantees original content through a plagiarism checker.
Multiple platform availability.
Cons
Not ideal for long-form writing.
Free version is very basic.
Pro Writing Aid
ProWritingAid is a cloud-based tool that enhances your writing in different ways. It's not a word processor or rewriter for essay writers but an editor for users who want to improve their grammar and spelling.
The premium version can spot over 20 errors in your essay, including repeated sentence starts and over-reliance on adverbs. The writer can also take advantage of readability reports, sticky sentences, and subject-verb disagreement. 
The online editor not only corrects your grammatical mistakes. It also helps you become a better writer. For example, using adverbs and the passive voice are not necessarily "errors." But avoiding these elements can help your essay readers engage with your content better.
Aside from checking grammar, ProWritingAid also scans your essay for plagiarism. It ensures your document is original and free from duplications. The essay writing software provides a link to the source so you can correctly cite it.
ProWritingAid has browser extensions and a desktop version. The powerful tool also features a 14-day trial for writers who want to test it first. You can also use it in Google Docs, Scrivener, and Chrome.
This advanced grammar checker is available for $20 per month or $79 per year. 
Pros
Simple interface.
Wide platform availability.
Twenty-five types of writing reports.
Free trial.
Lifetime plan.
Cons
Unnecessary features like sticky sentences.
Slow loading time.
FreeMind
Writing essays becomes more motivating when you use FreeMind. This software isn't your typical editing tool that performs grammar checking. It helps you achieve daily goals in writing through structure diagrams and project tracking.
This app for writing essays improves your writing habit by letting you add subtasks for each activity. It will allow you to organize your essay ideas on any topic to produce impactful writing.
Another extra feature of Free Mind is its time recording element. Brainstorm your work, use colors, and take advantage of DES encryption to produce and protect your mind maps.
Pros
Helps users make flowcharts and mind maps for essays.
Perfect for other types of project planning.
Protects your work from being lost.
Completely free.
Cons
No grammar-checking tool.
Difficult to use for first-timers.
Not specifically designed for essay writing.
Edusson
Among the numerous writing applications, Edusson is the most interesting for its wide variety of features. The essay writing app writes essays for you, ensuring they are free from grammar mistakes and have a proper sentence structure.
Content writers will save more time coming up with a topic idea for their next post. An additional feature of Edusson is its self-help resources. The website also includes essay samples its writers produce to let everyone know they make high-quality papers.
Edusson does not offer offline mode because it's not an AI writer. The app lets you order assignments for a real writer to write. These writers also ensure that your work is free from grammatical mistakes.
Whether you write blog content, academic papers, or magazine articles, this assignment writer is for you. Use it on your desktop or download the mobile application for more writing ideas.
Pros
Real writers help you with your essay.
Ideal for other types of writing.
Easy to use for beginners.
Cons
May take time before you get your assignment.
Expensive.
Simplenote
If you're looking for an essay writing app with a basic interface made for note-taking only, Simplenote is your best choice. Like other writing tools, it lets you jot down ideas and concepts for your document. But it doesn't have advanced features.
You can organize your text through Markdown, a standard syntax like HTML but more straightforward. If you're a web developer or a programmer, you know how fantastic markdown is for readability. 
Long-form writers benefit the least from Simplenote because the app is developed for hand-written notes and ideas. It also doesn't feature a virtual proofreader, file importing, and comprehensive formatting.
Pros
Best app for writing notes.
Markdown support.
Completely free.
Cons
No grammar and spell check. 
No automatic writing tool.
No file imports and lists.
Libre Office Writer
Writer is LibreOffice's app for essay writers that is available for free. Its free yet advanced writing abilities are inspired by Microsoft Word. It has basic features like font styles, sizes, insert pictures, layout settings, and referencing. It also displays your character count.
The desktop app is ideal for academic writing that requires strict formats and layouts. It's an excellent alternative to Google Docs and Word, the most popular word processors on the market.
One downside to Libre Office Writer is its lack of a built-in grammar and spelling checker. You need to edit your work on third-party tools like Grammarly for corrections.
Pros
Free alternative to MS Word.
Comprehensive formatting and layout options.
Reputable word processor.
Cons
Scribus
Scribus is a fantastic choice among writers who want to produce aesthetically pleasing projects. Millions of writers use this software for reports, magazines, academic writing, or even your personal journal.
The open-source tool doesn't help you organize your ideas or correct grammar. Instead, it focuses on one aspect of your writing: your book layout. You can use the Layers, Outline, Styles, and Properties to style every page of your book.
Many believe actual writing starts with the look of your document. Scribus is like a basic version of Adobe InDesign and Affinity Publisher. Use it for your essays, academic texts, and self-published books.
Pros
Improves the layout of your written work.
Simple interface.
Free. 
Cons
No option for checking your spelling and grammar.
Dated design.
Focus Writer
Focus Writer is a free word processing app you can use as an alternative to MS Word and Google Docs. The distraction-free writing app has a focus mode that blocks other windows and menus. All you have to do is write on the blank page.
But the essay writing services also offer several formatting options for different aspects of writing. Move your cursor upwards to reveal the menu. Focus Writer lets you set goals for your daily word count with a percentage bar displayed below to show your improvement.
You can use Focus Writer for simple essays, personal thoughts, and critiques. 
But I don't recommend it for academic writing. It also doesn't have a built-in file editor for spelling errors.
Pros
Straightforward interface.
Runs on Windows, Mac, and Linux.
Free.
Cons
Limited export formats.
No collaboration options.
No writing templates.
No grammar checker.
Evernote
Evernote is a note-taking application for hand-written notes. You can create checklists, to-do lists, and other organizational elements in individual files. As an academic writing software tool, Evernote uses thematic Notebooks to help you group your writing projects into subjects.
One of the most valuable features of this app is its template gallery. The dozens of templates make Evernote a common choice of essay writers in work and school. It also has a clipper tool where you can take clippings and snippets from any site. 
Evernote is also the only application with features for optical character recognition technology. That means this app for writing papers also searches scanned images of hand-writing. 
Pros
It helps users write to-do lists, notes, etc.
Web clipping.
Clean interface.
Collaboration features.
Cons
Basic free version.
It keeps changing the layout and startup screen.
Jarvis
Jarvis or Jasper AI is not a proofreading software or a note-taking tool. It's an app that writes essays for you without the user having to do anything. It works using Natural Language Processing to write paragraphs of blog articles for you.
The main focus of Jarvis is SEO. All the pieces of content it automatically writes ensure they will rank high on search engine result pages. It can also finish your first draft two to five times faster than a human.
This artificial intelligence software is perfect for content writers who must produce dozens of essays weekly. Use this tool for social media posts, ad copies, and blog posts. 
Pros
Automatic rewriter.
Boss mode.
SEO integration. 
Cons
Doesn't include a plagiarism checker.
The final piece of writing still requires human editing.
Is There a Software That Will Write Essays for You?
Many desktop and mobile software can automatically write essays for you. These "bots" are powered by artificial intelligence to make the writing sound human-like.
Some essay writers only require you to insert keywords or a specific topic. Then, it will create everything else for you. Jarvis or Jasper AI lets you pick a template, narrow the subject, and click "Generate AI content."
Other AI writers need you to copy and paste a piece of text from other sources. Then, it will rewrite the entire content for you. Quillbot is a paraphrasing tool that produces plagiarism-free content for you. It can also summarize, shorten, or expand your writing.
Best Free Essay Writing Software
The best free essay writing tools you should have are ProWritingAid and FreeMind. The former is editing software that offers spelling, grammar, and style correction, while the latter helps you brainstorm your next essay. These two software programs are completely free.
Use FreeMind to plan your next essay. Different mind maps, time recording, and project tracking features will help you brainstorm your topic. 
Once you're done writing your essay, run it on ProWritingAid to check for issues. It provides over 20 writing reports to make your written document error-free and readable.
Research Paper Writing App
Some essay writing apps are specially developed for writing research papers, theses, and dissertations. For example, Libre Office Writer has all the formatting settings you need to write your research, including page numbers, text alignment, and a bibliography.
Another research paper writing app you can consider is Evernote. Although I wouldn't recommend writing your research on this app, you can use this tool to make notes. Use it to organize your review of related literature, analyze your findings, or structure your intro. 
There's a Tool for Every Writing Goal
So many tools exist to help you plan, write, and edit your essays differently. I hope the list of best essay writing software stated above saves you more time and makes you a better writer. 
My top choices are ProWritingAid and Grammarly because writers in all fields need them for proofreading purposes. Which essay writing tool are you trying first?