Even if it's impossible to replace human proofreaders, proofreading software programs can prevent obvious errors in spelling and grammar. Each tool has pros and cons, so it's essential to check which one suits your needs.
I curated a list of the best proofreading and editing software to enhance your writing. These programs are available as a web editor, Windows or Mac app, Word plugin, or browser extension.
The Best proofreading and Editing Software to Use in 2022
ProWritingAid
Starts at $7.42 per month
25 Detailed Writing Reports
In-app Suggestions
Contextual Thesaurus
60/Year Plagiarism Checks
Offers a One-Time Fee of $399
Top Choice
Grammarly
Starts at $12 per month
Online Spelling, Grammar, and Punctuation Checker
Plagiarism Checker
Tone Detector
Style Guide
The Business Version is $15 Per Month
Ginger
Starts at $9.99 per month
Grammar, Style and Punctuation Checker
Read-aloud Feature
Paraphrasing Tool
Supports More Than 40 Languages
Offers a 7-Day Money-Back Guarantee
Grammarly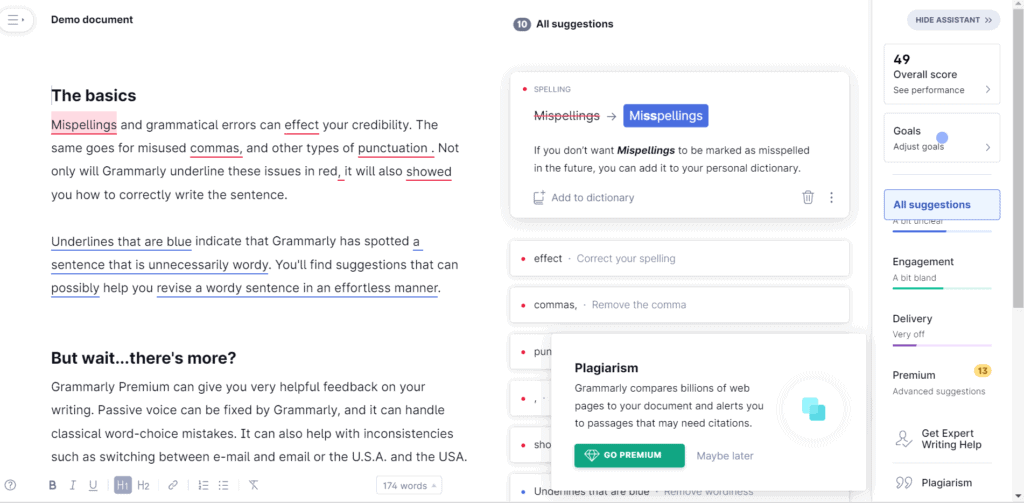 Grammarly is by far the best online editor for writers and proofreaders. The famous application is known for correcting more than your grammar and spelling errors. It also checks the writing style of your document based on clarity, delivery, and engagement.
This online proofreader is not like other spell checkers. Some suggestions it can give users include:
Correcting passive voice.
Making your tone consistent.
Respectful and confident language.
Removing redundancies and repetitions in sentences.
These functionalities are all possible through Grammarly's sophisticated artificial intelligence. You can quickly accept or decline each suggestion with one click on the clean interface.
Grammarly is available as a browser extension. You don't need to go to the web editor anymore. The extension automatically proofreads your work as it integrates with Safari, Google Chrome, Microsoft Edge, and Firefox.
It's also available as an MS Office add-on and a desktop app. Correct your spelling and grammar as you work on Discord, Slack, Skype, Apple Email, and other desktop applications.
One downside to Grammarly is the lack of an offline version. Even if you're using the desktop app or on the Premium version, the proofreading service requires an internet connection. You won't receive writing reports if your Wi-Fi or cellular data is down.
Grammarly Pricing
Grammarly has a nifty free plan that you can use for a lifetime. But you can upgrade to Grammarly Premium; consider the following subscription options:
Monthly plan: $29.95 per month.
Quarterly plan: $19.98 per month (billed as $59.95 every three months).
Yearly plan: $11.66 per month (billed as $139.95 every year).
Pros of Grammarly
Genre-specific suggestions for your grammar and overall writing.
Most popular proofreading or editing application.
Includes a plagiarism checker.
Multiples integrations across platforms.
Cons of Grammarly
Does not work with other languages. 
The free version only corrects basic punctuation, spelling, and grammar mistakes.
Does not offer an online version for writers.
Still in beta version with Google Docs.
Expensive. 
ProWritingAid
ProWritingAid is one of the best proofreading software for creative writers. Most tools overly focus on shortening sentences and removing unnecessary words and phrases. But only this grammar editor can give you error-free writing without ruining your personal style.
Professional writers love ProWritingAid because its features include more than correcting spelling and grammatical errors. They also make accurate context suggestions for the transition of your sentences, story pacing, and dialogue tags. 
It's an excellent tool for improving the overall readability of your work. ProWritingAid spots punctuation mistakes, glue words, and other factors contributing to your Flesch Reading Ease Score.
There's also a contextual thesaurus that allows you to explore several synonyms for your words appropriate to the specific contexts. You can also access the diction report to remove unnecessarily verbose phrases.
The online writing mentor has a built-in plagiarism checker, which checks your work against billions of sites and articles. It will help you maintain original ideas while citing your sources.
Overall, ProWritingAid is an impressive editor with other 20 tools. Other noteworthy features include:
Alliteration report.
Homonym check.
Consistency check.
Pronoun report.
Sentence length.
Sticky sentence report.
ProWritingAid Pricing
ProWritingAid has a free trial option to help you decide whether or not to get the paid plan. The Premium Plan of ProWritingAid has all the features of the online editor except the plagiarism checker. The pricing options are as follows:
1-year subscription: $70.
2-year subscription: $100.
3-year subscription: $105.
Lifetime subscription: $180 (including all future updates).
You need to buy the Premium Plus version if you need access to the built-in plagiarism detector. Here are its prices:
1-year subscription: $80.
2-year subscription: $120.
3-year subscription: $160.
Lifetime subscription: $340 (including all future updates). 
You can also get your ProWritingAid license through a bulk purchase or student discount.
Pros of ProWritingAid
One of the most affordable proofreading software programs.
Offers 20+ style suggestions.
Checks for plagiarism in your work.
Suitable for all types of writers. 
Includes automated scoring to help optimize documents. 
No word limit.
Cons of ProWritingAid
Sometimes offers false suggestions.
Some features are hard to learn and unnecessary.
Slow loading time. 
Ginger
Ginger is second on the list of the most robust proofreading tools because it quickly catches grammar errors in your writing. Since 2007, the online proofreading tool has been grammar-checking millions of documents worldwide with its amazing deals.
One of its advanced features is the read-aloud function on Word, PowerPoint, Outlook, and some websites. It has enormous advantages for people with dyslexia and regular individuals who want to hear how their writing sounds. This feature also helps with word choice and syntax.
Ginger checks your writing for spelling mistakes. Although it does not give detailed explanations like Grammarly, it has a learning center feature to enhance your writing skills. This facet helps you resolve your most common mistakes in content writing.
The online proofreader also fixes your sentence structure through its sentence rephraser. Make your sentence better-sounding by changing synonyms, antonyms, idioms, and phrases. 
But Ginger doesn't just correct English documents. It has a translator that switches the language of your writing into more than 60 languages. It's ideal for writers who cater to international audiences, like researchers, fiction writers, and bloggers. 
The online editing tool has a browser extension with everything you need to polish your text. Ginger is present, whether you're on email, Facebook, WordPress, or other websites on the internet. 
Unique Features of Ginger
Personal trainer.
Personal dictionary.
Emojis.
Smart Word Prediction.
Cloud storage. 
Ginger Pricing
Signing up for a Ginger account is free and easy. It also has a free version with the ordinary spell checker and grammar corrector. Ginger Premium is available in three payment plans:
Monthly subscription: $29.96 per month.
Annual subscription: $59.88 per year.
2-year subscription: $95.76 every two years.
If these prices seem expensive, you can wait for Ginger's occasional sale. The company offers up to 60% off on its services. 
Pros of Ginger
Checks for style beyond spelling, word choice, and grammar. 
The extension and desktop application are easy to use. 
Includes a unique translator feature.
The text-to-speech feature helps people with reading disabilities. 
Cons of Ginger
The free version does basic proofreading tasks like grammar checks.
Doesn't offer high-quality insights into your writing. 
Hemingway App
The Hemingway app is not the same as other online proofreading apps that offer real-time grammar corrections and plagiarism checkers. Instead, the proofreading tool makes your writing more readable and direct to the point. 
The developers named the minimalist tool after the king of brevity, Ernest Hemingway. Professional writers who don't need help with spelling and writing can rely on Hemingway for basic proofreading features.
Hemingway Editor is the web editor you can quickly access without an account. The free, online version works well on Chrome, Firefox, and Safari. Its algorithm features color-coded highlights to identify different mistakes:
Yellow highlights are for lengthy or complex sentences.
Red highlights are for confusing phrases.
Purple highlights are for poor sentence structures.
Blue words are for weak adverbs.
Green highlights are for passive voice.
Despite being free, Hemingway boasts of an uncluttered interface. You will rarely see ads surrounding the website, so your editing experience feels like a premium subscription. But it doesn't offer any plugins or extensions at the moment. You also won't find a mobile app. 
Hemingway will not correct your punctuation errors and poor choice of words. You can't use it as an alternative to a human proofreader. Use it to make your business writing or academic documents more concise and clear.
Hemingway Pricing
The Hemingway Editor is completely free, and the developers state it will stay like that forever. If you want an editor that is available offline, you can pay for the Hemingway app. It's compatible with both Windows and Mac.
It's a one-time payment of $19.99 for both Mac and Windows. This purchase includes free upgrades every time the developers try improving the program. 
Pros of Hemingway
Advanced yet user-friendly interface.
Convenient pricing structure.
Specializes in correcting style errors. 
Has a premium option for offline use. 
No need to install or login to the Hemingway editor.
Cons of Hemingway
Only useful for advanced-level writers. 
Provides inaccurate suggestions for adverb use.
Does not offer spelling suggestions and advanced grammar rewrites.
No Chrome, Safari, or Firefox extension.
Quillbot
Quillbot is unique editing software that is popular for its alternative sentence suggestions. The AI-powered writing service features a sentence rephraser, so your work doesn't get flagged as plagiarism. It's also an excellent function for writers who want to say something differently.
The paraphrasing tool helps non-native speakers sound like English is their native language. It also has advantages for people who want to have higher SEO rankings. Quillbot makes your work more unique to stay on top of Google's results page.
Quillbot has extra features you might find helpful. It offers basic grammar corrections that support American, British, and Australian English. But it's not as intuitive as Grammarly.
This paraphrasing tool also has a citation generator for different house style guides, a summarizer, and a co-writer. 
Quillbot Pricing
Quillbot has a free version that allows you to use 125 words for the paraphrases and three synonym options. The summarizer has a word limit of 1200. If you want to try the premium features, here are its three pricing options:
Monthly plan: $19.95 per month.
Semi-annual plan: $13.33 per month.
Annual plan: $8.33 per month. 
Quillbot Pros
Includes a paraphrase, summarizer, and citation generator.
It now has a plagiarism checker to ensure the originality of your work.
Affordable premium version.
Comes with a free version.
Quillbot Cons
No lifetime plan. 
Limited word count and options in the free version. 
The paraphrased suggestions are sometimes incorrect.
Slick Write
Slick Write is a proofreading tool that checks grammar, the number of adverbs, and instances of passive voice. It's a basic version of a grammar-checking tool with no premium options.
The writing aid solution is perfect for teachers, students, fiction writers, and bloggers who want to analyze their content. You can use the key statistics feature to score your students' essays if you're a teacher. 
Slick Write also provides information on the following:
Paragraph length.
Word length,
Reading time.
The number of long sentences.
Readability index score.
Slick Write Pros
Features vocabulary variety.
It has a word associator, which is helpful for those with writer's block.
Completely free.
Slick Write Cons
Inaccurate recommendations.
Doesn't check your spelling.
Difficult to use.
The 5 Types of Proofreading Tools
Depending on their purpose and platforms, we can divide proofreading tools into five categories.
Chrome Extensions
Browser extensions are among the most convenient types of proofreading tools. Even on Safari or Firefox, these programs work by correcting your writing everywhere you go on the net. 
For example, if you're typing on Gmail, the Chrome extension will automatically highlight your spelling and grammar errors. You'll find that they automatically evaluate everything you write on a text field, including Facebook, Google Docs, and other sites. 
Most proofreading extensions only check for spelling and grammar. But others also offer style suggestions, such as Grammarly Premium. Some Chrome extensions do not work well with Docs. You need a tool that is compatible with the specific application to work.
Online Proofreading Tools
The most accessible online proofreading tools are web editors or web applications. Simply go to their site and paste your text on the box provided. Hemingway is one good example of this tool. 
Some sites also let you upload a document for evaluation. These are called full-service online applications. Software programs like Grammarly let you save your copy in a personal cloud space. It safely keeps your documents even if you're a free user. 
However, these online applications are limited. If you need proofreading for the format of your manuscript, try MS Word with a Grammarly plugin.
Mobile Apps
Mobile applications are exactly how they sound. These are downloadable grammar-checking apps on your smartphone to help correct your spelling and syntax. You can download these tools on Google Play Store or Apple App Store.
The best type of mobile application for proofreading is a keyboard extension. It gives you real-time writing suggestions as you type on SMS, social media, or other applications. 
One good example is Grammarly Keyboard. After downloading it, you can activate the keyboard on your settings. The green logo will appear on your text boxes as it does on your browser extension. 
4MS Word Add-ons
The Microsoft Word add-on isn't a common proofreading platform. But it works like the Chrome extension, except you have to install it on the Microsoft Store. If you're a Mac user, you need to download the desktop application for MS Word integration.
This proofreading tool provides real-time suggestions as you write on MS Word. It usually also works with MS Outlook to give grammar and style recommendations. 
Desktop Apps for Mac and Windows
Desktop applications are proofreading tools with their own word-processing programs. That means developers design these applications for editing and proofreading. 
However, most of these tools have minimal options for formatting. Take advantage of the file upload functionality of these apps. Open any .docx file, proofread, then export it.
I recommend getting a Word plugin. If you use Grammarly on your Mac, you can download the desktop application on App Store to integrate with Word.
What Software Do Professional Proofreaders Use?
Expert proofreaders use more than one software to evaluate their clients' work. First, they manually check the text for mistakes. Proofreaders need to earn a certificate to prove they have mastered this skill. 
Aside from manually checking them for errors, they also use the built-in spell checkers on Google Docs or MS Word.
Then, they use premium versions of Grammarly or ProWritingAid, depending on the type of writing they're checking. Other tools they may use include Hemingway and Ginger. They always use multiple tools to ensure error-free writing regardless of their assigned genre.
Do Professional Editors Use Grammarly?
Grammarly Premium is a top choice among professional editors because of its excellent features. This tool corrects more than just spelling and grammar. It also provides genre-specific suggestions for tone, style, and engagement. 
Professional editors may also use Grammarly Premium's plagiarism checker. It scans your work against billions of sites and articles to ensure it's original. This feature also guarantees that academic writers properly cite their sources.
There's a Proofreading Software for Every Writer
Each proofreading tool has its own unique features and benefits. Some programs like Ginger are better for students and academic writers, while others like Hemingway are ideal for professional writers.
But Grammarly remains the best proofreading and editing software for all types of writers. It offers contextual suggestions, detailed explanations, and a plagiarism checker for your work. This program is also available on Windows, Mac, Word, and browsers.
Which editing app do you like best?