Do you need help writing your content? English writers can benefit from numerous writing assistant programs to help them become better writers. Whether you want to fix your grammar or optimize your writing for SEO, there's always a tool for you.
As a USA TODAY Bestselling Author and Award-Winning content creator, I've tried just about every writing tool out there. They all come with pros and cons, and what works for some won't work for others.
Explore this list of the best writing assistant programs you can try for your content. Most of these tools require a paid subscription, but I also included free versions with impressive features. 
What Tools Do Professional Writers Use?
Professional writers like myself typically use more than one writing tool to improve their texts. Personally, I use a combination of Grammarly, ProWritignAid, and Google Docs built-in editor.
But again, what works for me might now work for you. Here are the four most common types of writing assistant programs you'll find in their starter kit.
Text Generator
One type of writing assistant program everyone should have is a text generator, which helps with writer's block and originality. 
These tools work differently according to the application. Some generate content for entire blog posts, while others are designed for sales emails and adverts.
Most text generators ask you to input keywords and your preferred tone and style. Then, they will automatically generate content for you. Other text generators let you copy and paste a whole piece of content for them to paraphrase.
Tools like Jasper also provide essential keywords to your content for search engine optimization. 
Text Editor
Text editor AIs or editorial assistants are the most common writing assistant programs because of their versatility and usefulness. These tools are also known as grammar checkers, spell checkers, and style editors.
The most common text editor is Grammarly, which provides suggestions for your spelling, grammar, and punctuation. I recommend getting a software program to fix your sentence structure, tone, and writing intent.
Other text editors have a translation feature. You can switch your text from English to any language to cater to your foreign readers. But AI text editors do not predict text. It only helps improve the quality of your work.
Word Processor
A word-processing program is the most basic writing assistant for composing written documents. Applications like MS Word and Google Docs are the most basic processors that let you edit and format your work. These programs also come with basic spellcheckers.
Some comprehensive word processors you can try are Scrivener and Zoho Writer. Scrivener offers organizational tools that help you improve your content workflow, especially if you're a book writer.
Plagiarism Detector
A plagiarism detector is an advanced software that scans your text against other websites, journal articles, and books to look for duplicate content. Most of these tools provide a link to plagiarized sources, so you can paraphrase your statement or cite your source.
The Best Writing Assistants for Today's Writers
Are you looking for a writing assistant to improve your grammar or generate new content? There's a program for you on this list. 
Grammarly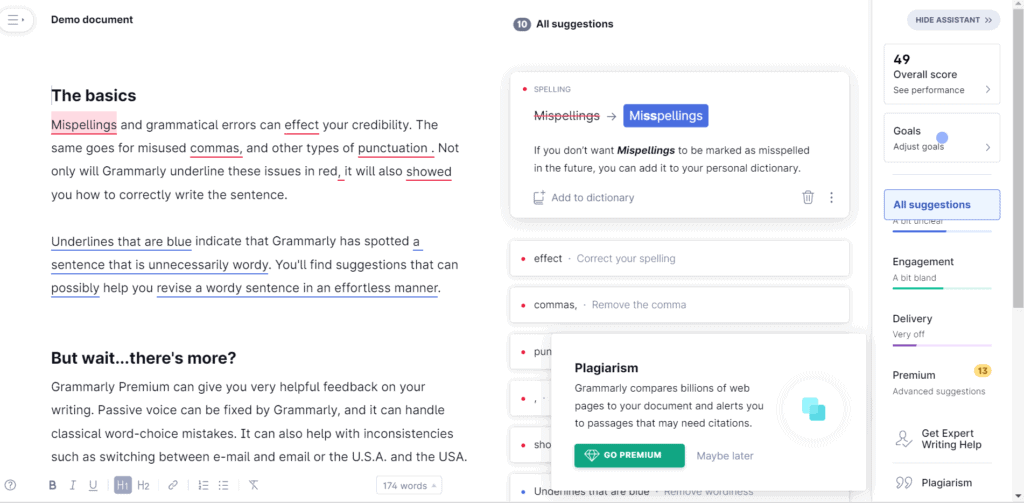 This is by far my favorite program. I consider it an all-in-one tool because it offers everything I need as an author and content writer. 
Grammarly is an online spelling and grammar editor that many writers use to improve the quality of their content. This popular tool has a clean user interface, making it easy to use despite the advanced features.
Improve your sentence structure, correct typos, and keep your tone consistent with Grammarly. This online editor lets you correct context-specific spelling and grammar in your document.
You can also consult the thesaurus by double-clicking on words for synonyms. A crucial tool for writing Fiction. I'm always looking for other ways to say overly used words and phrases.
Grammarly has a free version for basic correction and clarity suggestions. It fixes your spelling, grammar, punctuation marks, and capitalization errors. 
But it won't give you in-depth feedback on your writing style. Not like, say, ProWritingAid. But, that still works for me because of the level of writer I am. I'm comfortable enough in my craft that Grammarly is all I need.
Grammarly's premium version can fix passive voice, repetitive words, poor sentence structures, and lack of sentence variety. It can also enhance your tone, promote inclusive language, and detect plagiarism. The pricing starts at $12 per month.
You can use Grammarly on a wide range of platforms. Download it as a browser extension on Chrome, Safari, Microsoft Edge, or Firefox for real-time suggestions on your writing. You can also try the desktop version.
I consider Grammarly the best writing assistant for fixing grammatical errors. Business owners, content marketers, and freelance writers can also use it.
Key Features
Spelling, grammar, and style suggestions.
Tone detection.
Personal dictionary.
Thesaurus.
Plagiarism detector.
Grammarly Pros
Comprehensive and accurate spelling, grammar, and style checker.
Explains your writing errors.
Genre-specific suggestions.
User-friendly interface.
Grammarly Cons
No free trial.
The free version is basic.
ProWritingAid
ProWritingAid is another online editing tool with several functionalities for error-free writing. This was actually the first tool I tried. I love it for all its features, but I find it makes my computer run really slow so I only utilize it when polishing a manuscript before sending it to my editor. 
The grammar checker uses artificial intelligence to fix writing styles, misspellings, and other writing aspects. 
While it's suitable for academic content and blogs, ProWritingAid is best for fiction writers. Users enjoy correcting the pacing of their stories while receiving transition reports. They can also check dialogue tags, alliteration, and homonyms on their document in the book editor.
Other features of ProWritingAid include plagiarism detection, house style check, and pronoun reports. These unique tools are not accessible in other online editors. 
As an English writer, I love ProWritingAid because it's a cheap alternative to Grammarly that offers the same high-quality service. They have a lifetime plan that costs $240, including all future app updates. But you can choose from their other plans, which start at $70.
ProWritingAid features a multiple platform element. It has a browser add-on, Word integration for Windows, a desktop program, and a web editor. It also integrates well with Scrivener for your long-form content. 
Key Features
Spelling, grammar, and style check.
Readability, sentence structure, and pacing check.
Built-in plagiarism checker. 
Summary report.
Thesaurus engine.
Overused word checker.
ProWritingAid Pros
Offers contextual spelling and grammar checkers.
Clean interface.
A great choice for long-form writers and fiction authors.
Affordable lifetime plan. 
ProWritingAid Cons
Unnecessary reports for pacing and sticky sentences. 
Intimidating to learn. 
SEMrush
SEMrush is an SEO tool that improves your site for search engines. Regardless of your writing goals, this writing assistant software is the perfect tool for blog content and social media posts.
The online tool can make your writing stronger through link-building opportunities. It also has impressive features that let you discover what people search for on Google. The amazing user experience of SEMrush also makes technical modifications easier for beginners.
SEMrush makes the writing process easier by giving you keyword suggestions. It's not your typical online grammar checker that merely provides spelling and grammar corrections. 
Professional editors can receive website suggestions for backlinks. They can also perform an SEO audit on the site to see if you can make improvements for better results on the search engine. 
All of these features of the writing assistant tool will ensure that your post will generate conversion. SEMrush can be expensive compared to other SEO tools, but it's worth it. The pricing starts at $199.95 per month for the Pro Plan.
Key Features
Domain analysis.
Rank tracking.
Backlink analysis.
Keyword research.
Site auditing.
SEMrush Pros
Easy to use for beginners.
Keyword intent data helps you use relevant phrases and words.
Easy instructions on the auditing feature. 
SEMrush Cons
Expensive. 
One plan is only for a single user.
Difficult to carry out broken link building.
Hemingway Editor
Hemingway is a powerful writing assistant for people who want to improve the readability of their work. Inspired by Ernest Hemingway, Hemingway's main feature is to make your text more concise and straight to the point.
Unlike Grammarly and other ProWritingAid, it doesn't help you correct basic grammar mistakes. Instead, it offers real-time suggestions in complex sentences, weak adverbs, and complicated words to improve your writing skills.
Hemingway also ensures error-free content in the English language through additional features like your readability score and word count. When making beautiful documents, you'll also know your reading time, number of letters and characters, and paragraph count.
The online editor has a desktop app compatible with Windows and Mac. It has a free version and a paid one, which costs $19.99.  
Key Features
Color-coded suggestions.
Corrections for passive voice and weak adverbs.
Suggestions for lengthy and complex sentences and phrases.
Readability score.
Pros
Helps improve your writing style.
Affordable desktop version.
Free platform for all types of writers.
Cons
No spelling and grammar checker.
No enhanced features for organization or formatting.
Textmetrics
Textmetrics is one of the standard AI tools you can try for inclusive writing. This writing assistant has advanced functionality that helps writers avoid bias in their work. They can receive real-time suggestions to improve the content creation process.
The application analyzes and measures your lexicon, then checks for improvements in writing awesome content. It instantly helps you be more inclusive in your writing while elevating your brand identity and findability.
Textmetrics offers an affordable subscription plan for its users. You can contact the organization to give you an exact amount of the basic plan. 
Key Features
Augmented writing.
Diversity and inclusion.
Employer branding.
SEO.
Textmetrics Pros
Allows writers to be more inclusive in their text.
Real-time suggestions.
Makes your writing more readable.
Textmetrics Cons
No actual prices are available on the website.
No spelling and grammar checking. 
Language Tool
Language Tool is one of the many AI-based writing tools that can spot common mistakes in spelling and grammar. It offers advanced writing suggestions for typos, grammar, and stylistic issues, helping you avoid bad writing habits.
Aside from correcting spelling mistakes, the grammar check program also spots errors in more than 20 other languages. These include German, Portuguese, French, Polish, etc. That means all the essential features are available for non-English writers too.
The open-source program is available as a desktop app, browser plugin, or web service to improve all types of writing. Use it for your blog post, academic article, or fiction book.
Key Features
Spelling, grammar, and style suggestions.
Multiple language support.
Auto-correct.
Personal dictionary.
Keyboard shortcuts.
Language Tool Pros
Free version available. 
Available in foreign languages.
Clean interface.
Integrates with browsers.
Language Tool Cons
Has limits on character count.
Not as comprehensive as Grammarly.
No plagiarism detector.
No word choice suggestions.
Zoho Writer
If you'd rather have an alternative to Microsoft Word, you should consider Zoho Writer. The free writing application syncs between your Mac, PC, and mobile devices. After creating a Zoho account, you can produce any word file for free on this processor.
The writing assistant also corrects basic grammar and spelling errors. An average person can quickly learn to use Zoho Writer because of its beautiful user interface. 
Key Features
Document merge.
Offline version. 
Document FillableNew.
Workflow automation.
Zoho Writer Pros
Clean user interface.
The file can be exported as a PDF document and other file formats.
Available offline as a desktop and mobile application.
Zoho Writer Cons
Unreliable spellchecker.
Formatting issues. 
Scrivener
Book writers will love Scrivener because of the word processor's unique features for organization and formatting. It's one of the few writing assistants with a binder feature for an organized content flow.
Divide your book chapters into color-coded binders or your business documents into categories. Scrivener also has additional functionality for templates based on your project type. 
You can also set project targets for your writing sessions. Set the number of words, characters, and pages you want to achieve. 
Key Features
Binder.
50+ templates.
Project targets.
Corkboard. 
Color-coding system.
Scrivener Pros
Offers a free trial.
Personalized setup and interfaces.
Includes free templates.
Perfect for book writers.
Scrivener Cons
The user interface is messy.
Steep learning curve.
Jasper
Jasper should be part of the business tools you use for writing. This software program works by searching the web to create relevant content based on the keywords you enter. The content generator lets you add a title and type a few sentences. Then it completes all the work.
Aside from the basic features of an SEO tool, Jasper also helps you set the tone of your writing. It continuously learns as you use it more, adapting to your content needs and goals. 
Overall, Jasper is the application of choice for anyone who needs to improve on the business of writing. Content marketers, SEO experts, and publishers will benefit significantly from this tool.
Key Features
Content templates. 
Content generation.
Grammarly integration.
SEO keywords.
Content lookback.
Jasper Pros
Easy to use for beginners.
Affordable plans.
Ideal for shot copies. 
Fifty templates are available for your content.
Jasper Cons
Doesn't fact-check information.
Does not provide sources.
Not ideal for automatic long-form content. 
Get Started with Writing Assistant Programs
Using writing assistant programs does not make you less of a writer. In fact, they help improve your writing skills. These sophisticated AI tools are also high-converting and time-saving. 
The formula for perfect written content is a word processor plus a text editor and plagiarism detector. Make sure you have one tool for each category by choosing from our list.