Grammarly Engineering has wrapped up another successful Hack Week! Once a year, we spend an entire week away from our day-to-day work to focus on hacking new ideas and developing new projects. Engineers are encouraged to collaborate with teams and roles that they don't normally get to work with. This annual tradition gives us a chance to learn from new perspectives and take risks, often leading to surprising breakthroughs. Most importantly, it's a lot of fun.
During Hack Week 2022, we explored over 70 ideas, with 170 participants, and 37 incredible virtual demos. Reactions on Slack included "jaw-dropping," "inspiring," and "invigorating." In this article, we'll share the winners of our Hack Week awards (selected by peer vote). Keep in mind that as exciting as these projects are, they are experimental ideas intended for internal inspiration and are not available as product offerings—at least, not yet.
Curious about what the Grammarly team built? Let's jump in.
Most Impactful Projects
Grammarly for Ukrainian and Server-Driven UI With Flutter
Grammarly for Ukrainian continued the expansion of a project from last year's Hack Week. It enables Grammarly to detect when a user is writing in Ukrainian and correct spelling, grammar, and fluency just like it does for English. This year the team focused on updating the underlying grammatical error correction (GEC) model to use UA-GEC 2.0, improving the precision by applying the language model, adding new suggestion cards, and more. We can't wait to see where this project goes in the future!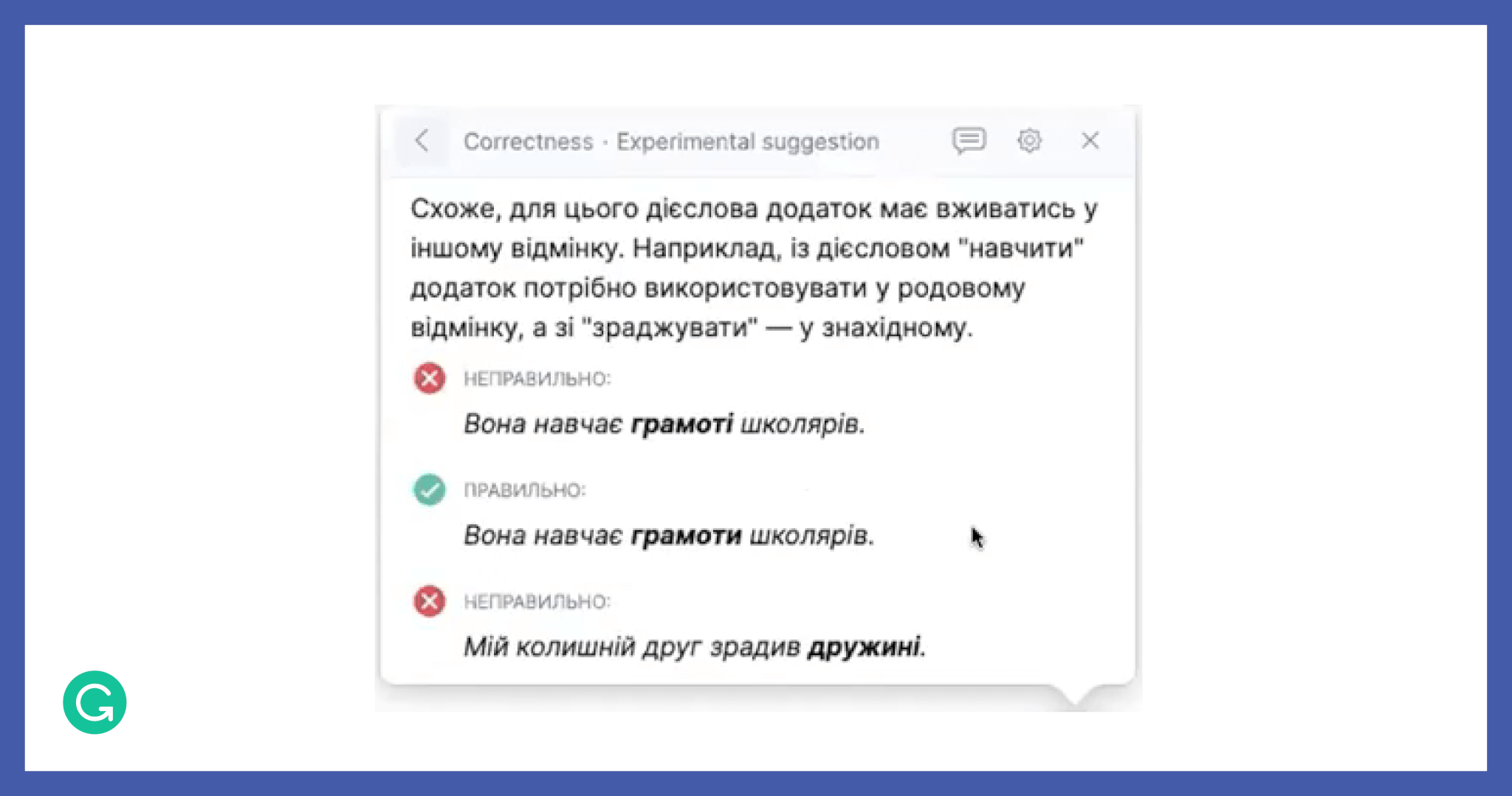 The project that tied for Most Impactful, Server-Driven UI With Flutter, also won the Biggest Internal Productivity Gain category. In the true spirit of Hack Week, the UI Foundation team picked two technologies they had zero experience with—Flutter and Dart—to rethink how clients render server-driven UI. They combined these technologies with Grammarly's existing server-driven UI to guarantee that suggestion cards and other elements look the same on all client-side platforms. We're inspired by this team's ambition and how they managed to get a full solution working in just three days!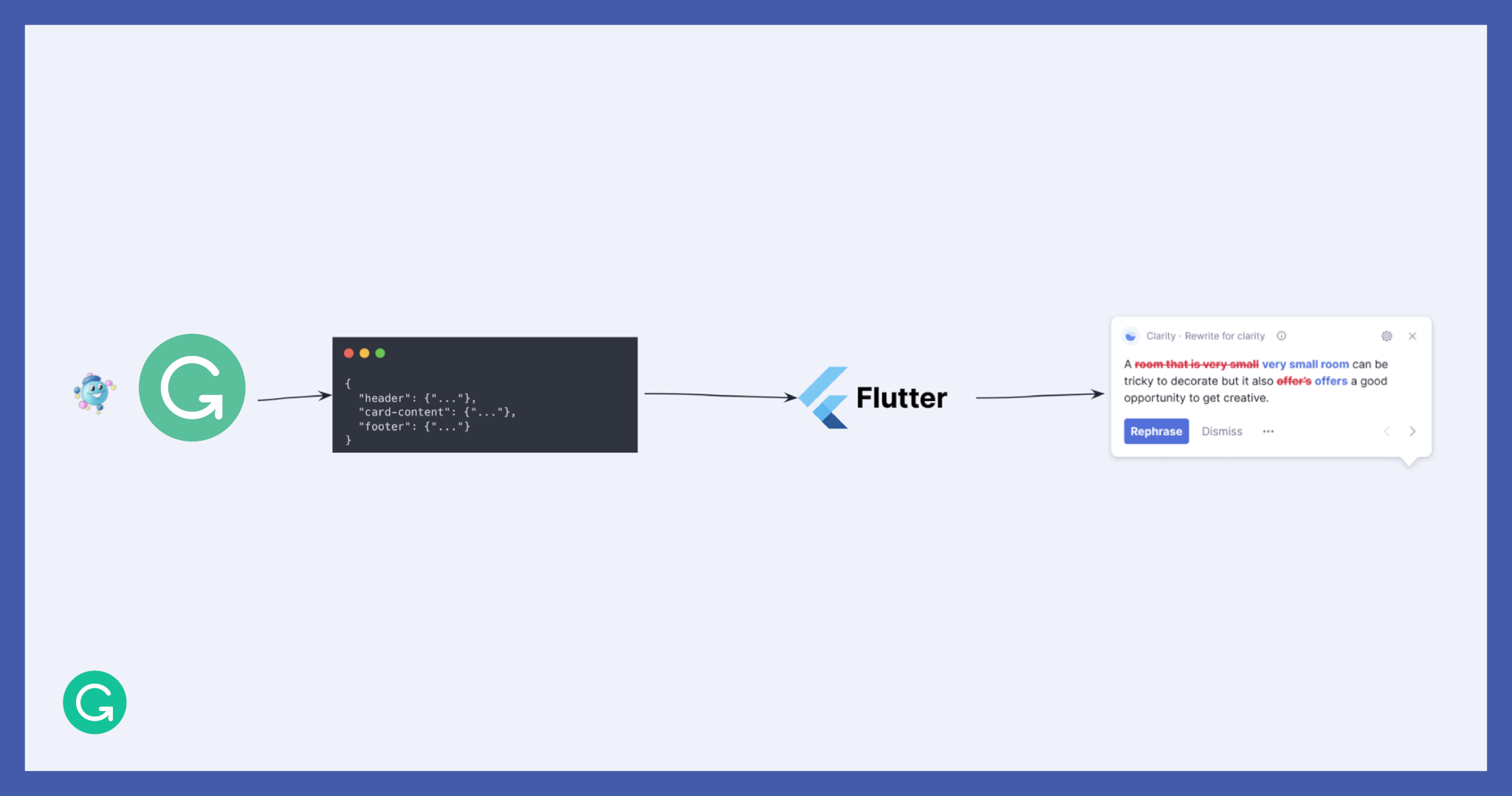 Most Innovative Approach and Best Use of Grammarly for Developers
Optical Grammar Recognition
Imagine you could take a photo and Grammarly would detect text in the image and review it for writing suggestions. We saw a demo of exactly this use case with Optical Grammar Recognition, which won two categories and excited many of us. The team's tool accepts an image, runs optical character recognition, analyzes the words using a pre-alpha Grammarly for Developers API, and then draws writing suggestions directly on the image. How cool!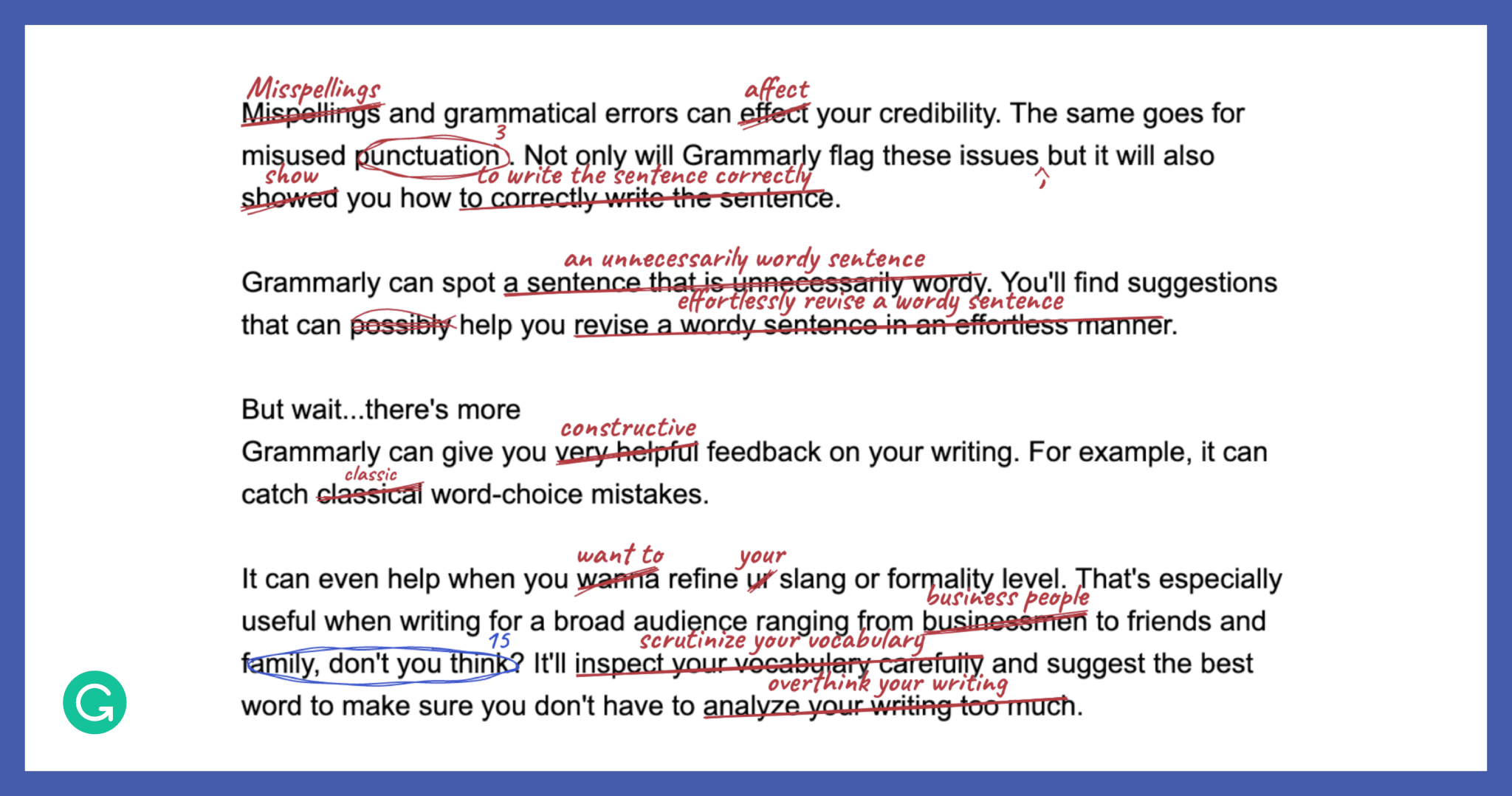 Best Use of Grammarly Data
Grammarly Coach
Grammarly Coach was inspired by user research revealing that Grammarly users are interested in improving their writing skills, expanding on the in-product explanations Grammarly already delivers. The team created a "learning mode" for Grammarly that enhances suggestion cards with additional tooltips and interactive games that make it easy to learn while you edit. As an extra resource, there are links within these cards and games to Grammarly's blog, where learners can discover more about related writing topics.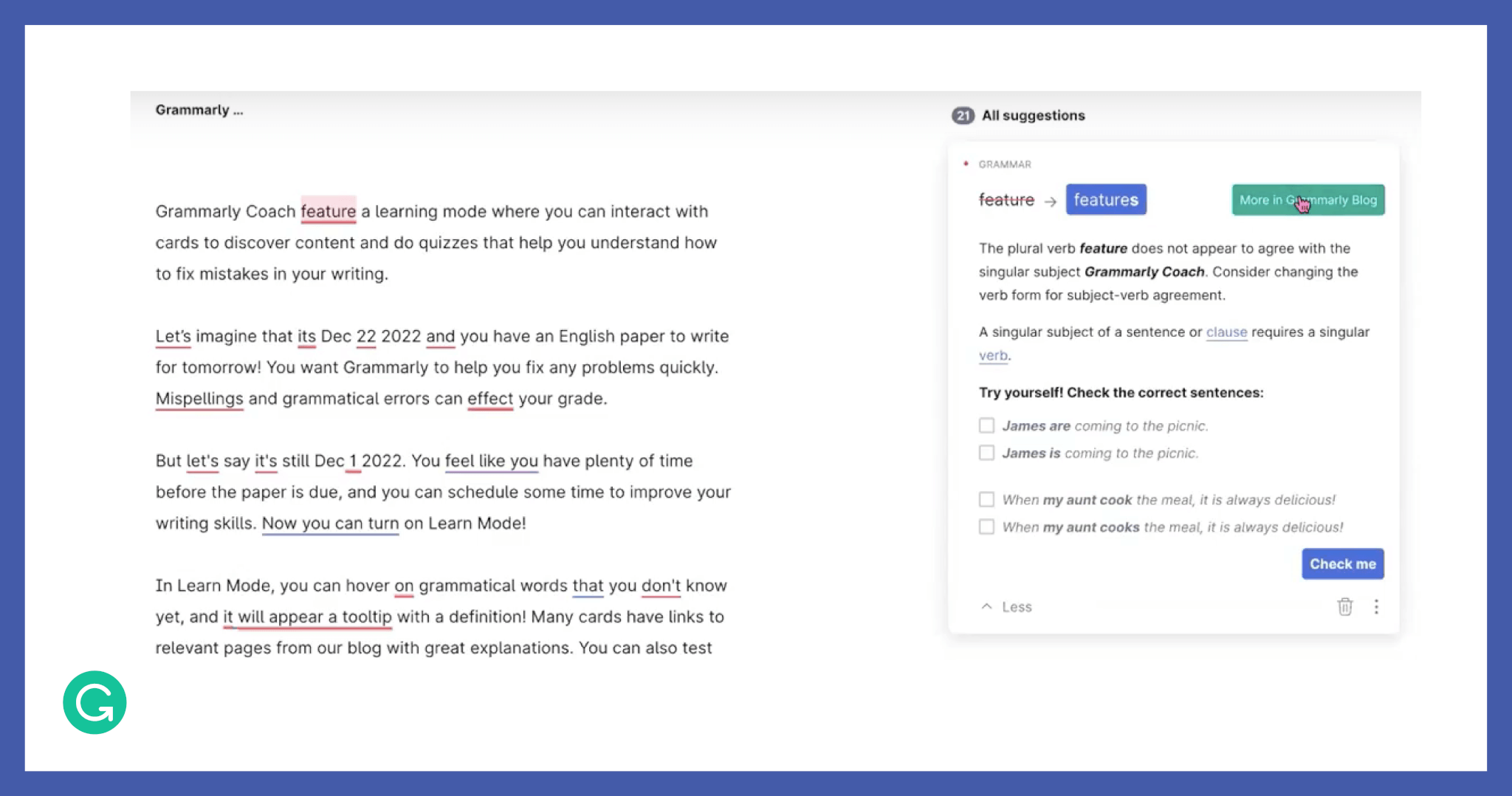 Biggest Technical Achievement
Grammarly for German
Could Grammarly work for German? Inspired by the Grammarly for Ukrainian project and our newest collaboration hub, in Berlin, this team decided to give it a try. They trained a GEC model on the publicly available datasets (which are not very substantial) and evaluated both sequence-tagging and sequence-to-sequence approaches. Their best ensemble approach had an F-score of 75.8, which almost matches the state-of-the-art German GEC model (75.96) but uses 7 times fewer parameters! After investing in expanding the vocabulary for spell-check and adding extra rules and filtering, they improved the model even more and demoed a complete Grammarly service for German (now internally available for Grammarly team members!)—an amazing technical achievement for just a week of work.
With two projects featuring new languages for Grammarly, it's clear that our team is excited about a variety of languages. While our current plans remain focused on Grammarly service offerings in English, Hack Week gave us a fun opportunity to dream about a range of possibilities!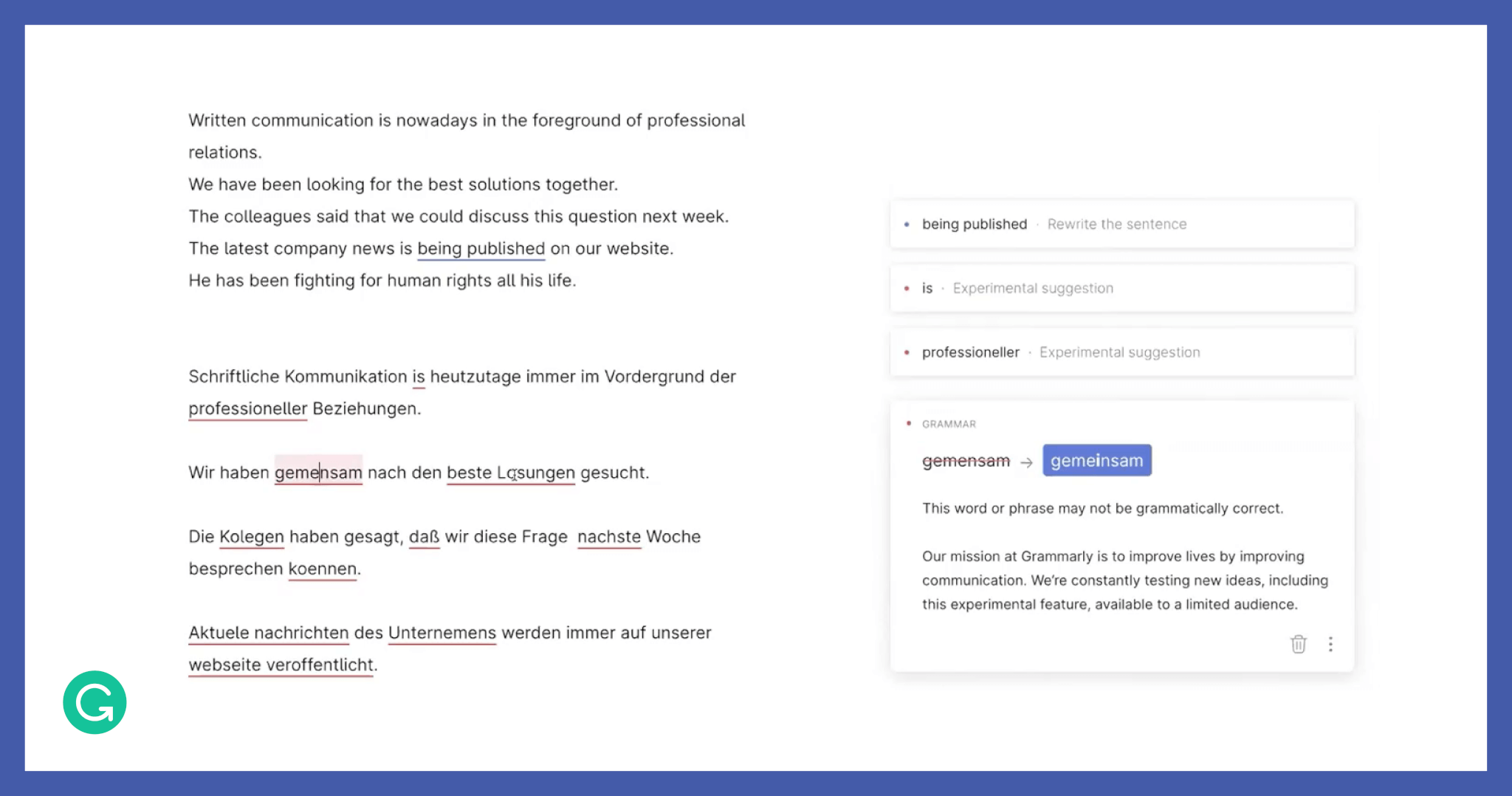 People's Choice
Poetly
Roses are red, violets are blue, sugar is sweet, and so was this Hack Week project. Reading through user feedback, the team noticed a trend where poetry writers sometimes found Grammarly suggestions weren't tailored to their needs. So they decided to address this by developing features to support poetry editing: suggest paraphrasing to add alliteration or assonance, detect broken meter, and offer multiple ways to complete a poem with a rhyme. Grammarly team members watching this demo raved in the chat about the technical achievements and impact of this project. We won't be surprised if this project continues to develop in future Hack Weeks!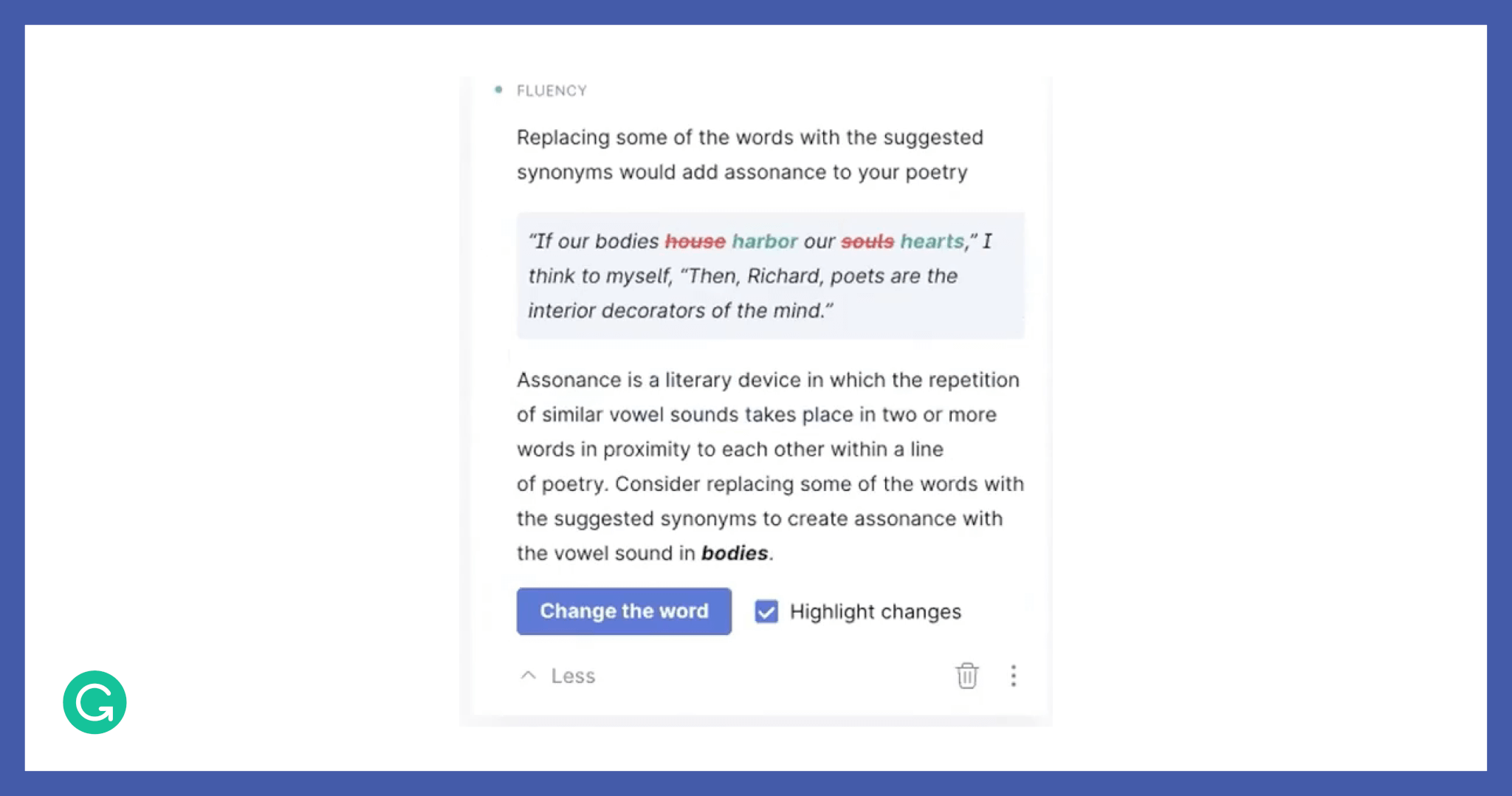 Hack Week never fails to leave us feeling more inspired and excited about working at Grammarly. A huge thank-you to everyone who participated. (With five days of demos, there were so many great projects that we didn't have space to feature!)
Have a cool idea for Grammarly Hack Week 2023? Apply to join our team, and you could help build it! View our open roles here.