If you've been exploring online grammar checkers, you've likely heard of Grammarly and Linguix. These two tools help you become a prolific writer through their spelling, grammar, and style corrections. But which editor is better?
This Grammarly vs. Linguix review will help you decide which online grammar checker you should get. Read on to know their features, pricing, and pros and cons.
What is Grammarly?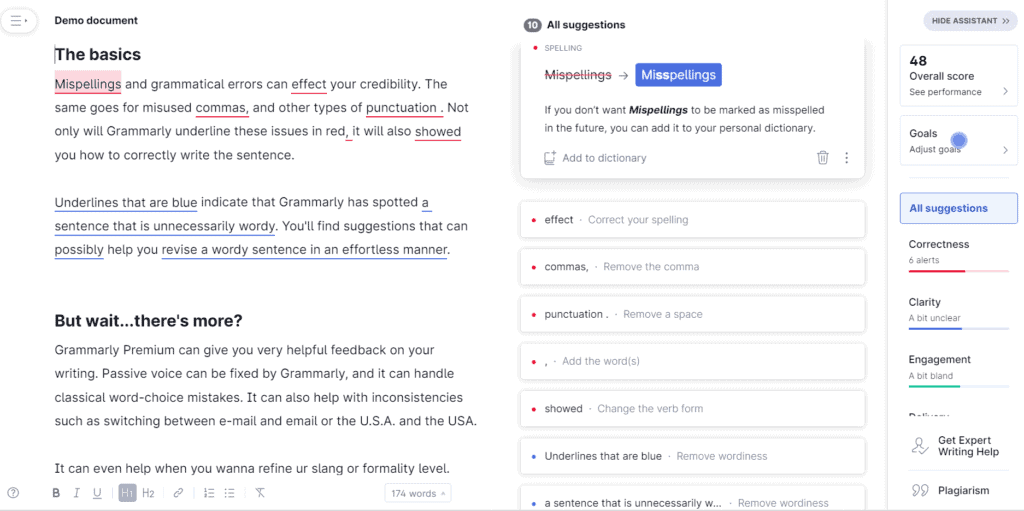 Grammarly is my favorite grammar checker that improves your writing and makes you a better writer. The software is known for doing more than correct spelling, grammar, and punctuation mistakes in your sentences.
The online editor has a wide range of grammar tools that edit your document's sentence structure, tone, and engagement. Grammarly can also help with inclusive language, creating active sentences, and other genre-specific writing goals.
This tool also has a plagiarism checker on the premium version, where you can scan your text for duplicate content.
Grammarly is free as a web editor, browser extension, and mobile keyboard. But a premium option is available for more advanced features and a plagiarism checker.
The grammar checking tool is ideal for students, entrepreneurs, book authors, and casual writers who need help with their writing style. It's a well-rounded writing assistant for everyone who wants to produce reliable content.
What is Linguix?
Linguix is an AI-based writing assistant with numerous grammar checking tools that can spot thousands of grammar errors. Aside from basic writing suggestions for proper punctuation and grammar errors, Linguix also checks your writing style in the English language.
It's one of the most accurate writing assistants because professional linguists and writers helped develop the tool. The content-building tool on Linguix also allows you to analyze statistics regarding your writing.
You can access your reading time, Flesch-Kincaid grade, and your text's suitability according to your audience. 
Linguix also features repetitive typing automation, where you can expand longer texts with one-word shortcuts to make your writing career easier.
The application is not available on several platforms. But there's good news: Linguix has redesigned its browser extensions for more recommendations. You may also integrate the app with Google Docs now.
Linguix Premium offers a 14-day trial before it requires a subscription. Overall, it's a fantastic editor that can perform spelling, grammar, and punctuation checks to help you make compelling content.
Grammarly and Linguix Compared
Grammarly and Linguix have very similar features when it comes to spotting spelling mistakes and grammatical errors.
Features
Grammarly is a proofreading software that can spot hundreds of grammar mistakes according to four categories:
Correctness (any grammar and spelling errors).
Clarity (conciseness, sentence rewrites).
Engagement (compelling vocabulary and sentence variety).
Delivery (tone adjustments and confident language).
Some unique errors that Grammarly can spot include run-on sentences and comma splices. The popular writing assistant also suggests ways to make your sentences shorter, more confident, inclusive, and respectful.
But the best part about the writing feedback is the detailed explanation. Grammarly can tell you why you made that error, so you don't make the same mistake next time. In the long run, Grammarly Premium will enhance your writing skill. 
You can also tailor the suggestions according to your writing goals. Are you making academic, business, or casual writing? Set targets on Grammarly to receive the correct suggestions, including your domain, intent, and audience.
Lastly, Grammarly can spot accidental and unintended plagiarism. It scans your work against millions of articles to check for duplicate content or unintentional plagiarism. It links each plagiarized statement, so you can evaluate the similarity and make the proper citations. 
Linguix is an online editor that can check your basic grammar and spelling errors in writing. The popular tool has a dashboard that looks like Grammarly. It also underlines your mistakes in red while showing the suggestions on the right.
One of the essential features of this default writing assistant is the in-depth explanation. Linguix explains why you made a specific error, so you never commit the same mistake next time. It adheres to several grammar rules, like confused words, redundancy, and style.
If you're writing assignments that you want to keep safe, Linguix will let you check on Secret Mode. It's ideal for premium writing, confidential emails, and secret articles.
Content production is also easier with Linguix's dictionary feature. Writing editors cannot detect new words, brands, or made-up terms. Add these words to your dictionary, so the AI service doesn't underline them as misspellings. 
Linguix is also a reliable writing assistant when it comes to detecting plagiarism. This grammar application is in partnership with Copyleaks to help check your document against billions of online text.
Grammarly and Linguix almost have identical features, making them the most popular grammar checking tools. But even if Linguix claims to spot thousands of writing errors, Grammarly remains more accurate and reliable in every writing aspect.
Pricing
Grammarly has a free version that you can use for an unlimited time. But you need to try the premium plan if you want to access the additional features of the writing tool, like plagiarism testing and sentence rewrites.
Here are the payment plans for Grammarly Premium:
Monthly plan: $29.95 per month
Quarterly plan: $59.95 every three months ($20/month).
Annual plan: $144 per year ($12/month).
The extremely popular cloud-based writing assistant also has an enterprise plan for huge teams called Grammarly Business. It's perfect for business people who need help with tone consistency and snippets, starting at $180 per year.
Linguix doesn't have a free version. It only offers a 14-day trial to help you decide whether you should get Linguix Premium or not. Below are the payment plans:
Monthly plan: $18.95 per month.
Quarterly plan: $36 every three months.
Annual plan: $96 per year.
Linguix is more affordable than Grammarly for advanced writing. But Grammarly is pricey for a reason. It has more accurate tools and is available in different browsers and mobile devices. 
Ease of Use
This Grammarly Linguix review is incomplete without evaluating its usability. Thankfully, both tools are easy to use for newbies and experienced writers.
Grammarly is a clever writing aid tool that gives you real-time corrections as you type on a text box. But this feature is only available if you installed the browser plugin. Use it when writing essays on Google Docs or composing emails on Gmail. 
Some extra features, including sentence rewrites, do not appear when you're on Google Docs. Because these integrations are still in the Beta version, it's prone to lags and malfunctions.
I recommend using the desktop editor to save time editing and accepting suggestions for spelling and grammar. 
Linguix is also easy to use because of its clean interface. It has a desktop editor where you can type your text or copy and paste it. It will spot spelling and grammar mistakes immediately and inform the writer for feedback.
You can also click the statistics to see how the grammar application analyzes your writing. The well-known writing assistant will reveal your readability score, word count, sentence count, and other helpful information.
Pros and Cons
Grammarly Pros
Full-featured grammar checker.
Real-time suggestions with options for customization
Easy to use.
Advanced integration features.
Includes a team plan
The perfect tool for people in any industry. 
Grammarly Cons
No privacy feature like Linguix.
Its basic version is limited.
Expensive. 
Linguix Pros
Helps make credible, error-free content. 
Includes a secret mode.
Ideal for every casual writer because of its suggestions for spelling and grammar. 
Affordable.
Linguix Cons
Limited platform availability.
Less accurate than Grammarly in terms of grammar and spelling suggestions.
Charges extra for plagiarism checking.
Mobile Apps and Extensions
The best professional editors offer many options for writers on where they can edit their text. Grammarly provides a variety of browser integrations, including browser extensions. These plugins are available for Safari, Google Chrome, Microsoft Edge, and Firefox.
You can also download the desktop app for PC and Mac to get real-time suggestions on Discord, Slack, Apple Mail, and other apps. Or install the plugin for Word and Outlook for convenient editing on these tools. 
Lastly, Grammarly lets you make innovative content on your mobile device using Grammarly Keyboard. These integrations are available on the regular version.
Linguix only offers integrations with Google Chrome, Firefox, and Microsoft Edge. There's also a mobile application you can try upon signing up.
Best For
Grammarly is the best online writing coach for every person because of its versatile features. But here are the types of writers that will benefit the most from the application:
Content developer or writer who makes blog posts.
Academic writer or student who's avoiding unoriginal content.
Business people who need help with brand tone consistency
Linguix still requires various improvements. But these writers can use the app for basic corrections:
Students who need help with essay writing.
Freelance writers and bloggers who are new to the industry.
How Do You Use Linguix?
Linguix offers state-of-the-art content editing through its online web editor. All you have to do is visit their website and type your text. Then, hover over underlined words to check the suggestions. 
You can also get Linguix for your browser to instantly fix and rewrite your content. Enable the extension so the app can give you real-time grammar corrections. 
Linguix Lifetime Deal
Linguix doesn't offer a lifetime deal. But it provides a lifetime plan payment occasionally through partnerships. Some features you can get for a lifetime include:
Grammatical and spelling corrections.
Browser extensions for real-time suggestions.
Helps you write more clearly.
Built-in dictionary.
Synonym suggestions.
Content templates.
Linguix vs. Grammarly: Verdict
Both Grammarly and Linguix are useful text editors for writers. Choose Grammarly if:
You want more accurate corrections and sentence rewrites.
You need a more reliable tool for checking your plagiarism.
On the other hand, you can try Linguix if:
You want an affordable grammar and plagiarism checker.
You need a basic proofreading software for your writing. 
I hope this Grammarly vs. Linguix review helps you decide which grammar-checking tool to get for your next writing project.