No matter where you write, you need a grammar checker like Grammarly to scan your content for writing errors. Unfortunately, Grammarly cannot perform real-time grammar checking on Microsoft PowerPoint. It only offers plugins for Word and Outlook.
This guide will cover the question of how to add Grammarly to PowerPoint, its limits, and ways you can work around it.
Can You Use Grammarly with PowerPoint?
Grammarly currently doesn't support integration with Microsoft PowerPoint and other Microsoft Office apps, except Word and Outlook. There are no Grammarly desktop apps or add-ons that will check your spelling mistakes or grammar mistakes on the spot.
Brand-new users may not be aware that the grammar tool has limited availability on these MS apps. Some users copy and paste their text to the web editor to check their content for writing issues. It has a simple user interface, but it's time-consuming to switch apps when editing. 
This situation can be frustrating if you're a writer who uses the presentation program for their projects. The developers failed to realize that a presentation tool also relies on text despite the short sentences and paragraphs. 
But the lack of an add-in integration should not stop you from using the precise grammar checker for your PowerPoint slides. As mentioned, you can go to the web editor to check your spelling and grammar mistakes.
You can also conduct a spell check proofreading on the desktop application or Grammarly's Word add-in. Just copy and paste your text to the editors.
How Do I Spell Check in PowerPoint?
MS PowerPoint has a built-in grammar check tool that underlines potential mistakes on your presentation slide texts. It combines corrections for grammar with spelling and style suggestions to make your writing more accurate. 
As you type on PowerPoint for the web, it will show you mistakes that you can ignore or accept. This feature is only available on OneDrive and SharePoint in Microsoft 365. All you need to do is select Check Slide on the Review tab.
An editor pane will open to check common grammar mistakes. It can also spot some issues with your clarity and conciseness.
If you want to turn off the proofing markers, click Review, then choose the Editor Settings button. A menu will appear, and you should click Hide Proofing Errors. 
PowerPoint's spell checker isn't the most accurate and comprehensive software for editing your text. Grammarly remains the primary writing app with more precise and reliable features.
The proofreading tool highlights grammar issues like the passive voice, inappropriate tone, repetitions, and more. It's also an affordable writing tool for its deep search plagiarism checker. Grammarly compares your work to billions of sources to look for duplicate content.
How to Use Grammarly with PowerPoint
Although Grammarly doesn't offer a PowerPoint integration, there are three ways you can use it to perfect your text-based presentation. 
Method 1 – Using Microsoft Word Integration
Grammarly offers options for proofreading your grammar and spelling mistakes on Word. That means you can copy and paste your text to Word to correct your writing issues.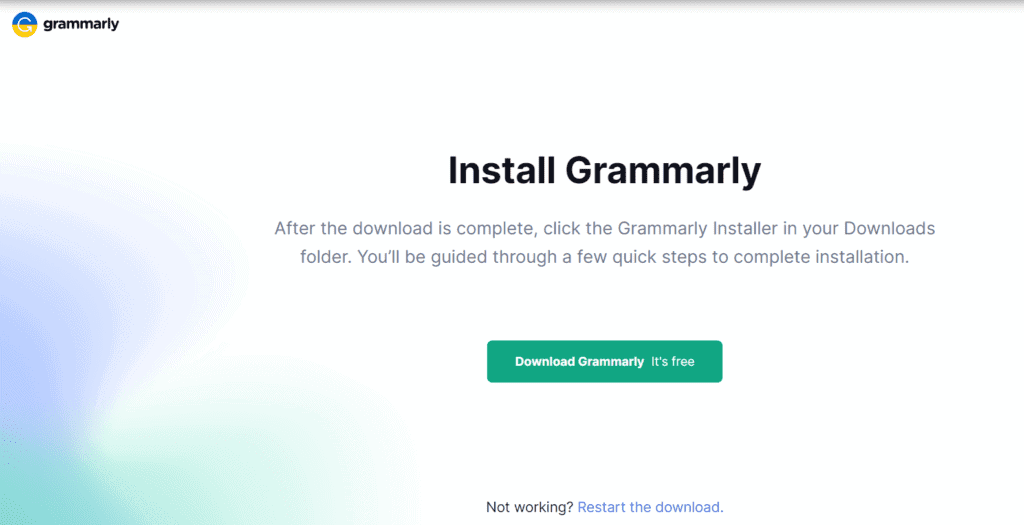 First, visit the Grammarly website, where you can install Grammarly for Word. Click install and wait a moment for the download to complete. Then, click the installation file, and a pop-up window will appear, where you will select the install button.
Click the Finish button and open MS Word. You will see various buttons on top of the page where you will look for Grammarly. Select the button on the upper-left part of the screen, and enter your login details.
If you don't have a Grammarly account, create a new one and subscribe to the premium version. Once you're done, a pop-up window will prompt you to open the website and start editing your doc file.
Now, you can use the robust spell checker tool by copying your PowerPoint text into MS Word. Grammarly will highlight your writing errors while providing explanations on the right side of MS Word.
The process may seem daunting, but Grammarly will start checking your text immediately. Don't be afraid to alter the formatting between the programs. After editing, transfer the entire text back to MS Powerpoint, ensuring you keep the proper format.
Method 2 – Grammarly Desktop Application
The second method for checking grammar and spelling on your PowerPoint is through the desktop application. Grammarly offers desktop apps for both Mac and Windows users for an easier review process.
Follow this link to download the Mac application. Then, click on the file and follow the prompts on the screen. Upon completion of the installation, the online editor will appear on the menu on top of your screen.
Download the Windows application using this link and follow the same prompts on your screen. Grammarly should be in your system tray, which you can find on the lower right part of your desktop. 
Then, you're ready to check each slide for writing errors. Copy and paste your text to the web editor to correct any mistakes. Then, paste it back into your PowerPoint file and save.
Method 3 – Grammarly Web Application
The final method for correcting your grammar mistakes is through the Grammarly web application. This procedure is the easiest because you no longer need to download an extension or application.
Open Chrome, Safari, or whatever browser you use and go to Grammarly's website. Log in to your account, then upload your presentation as a word document. Or you can create a new file on Grammarly and copy the text.
Edit Your Grammar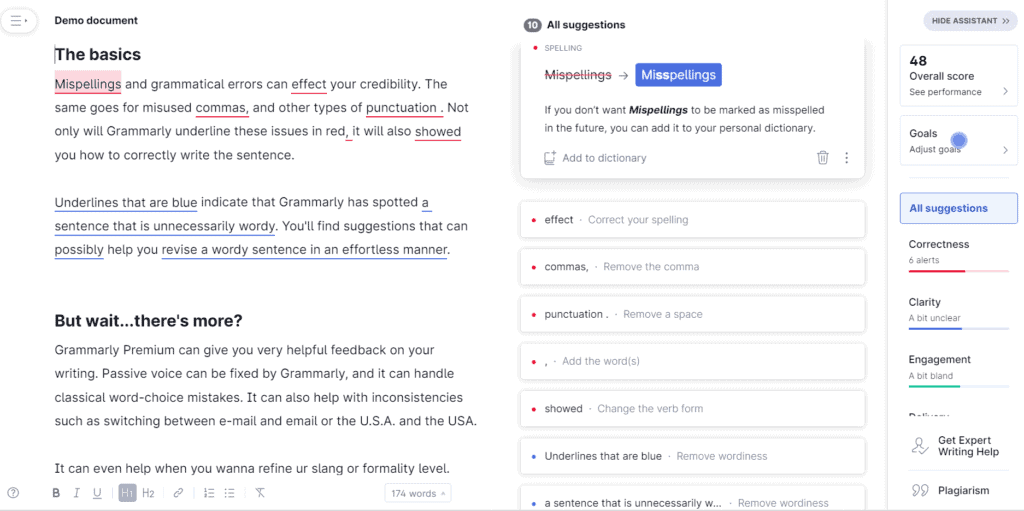 Grammarly lets you improve the writing of your presentation in terms of grammar and spelling through artificial intelligence. Users can enjoy the advanced features of this software, including its ability to spot spelling and grammatical mistakes.
After opening your file, the grammar checker will instantly scan the text. Some additional grammar tools of Grammarly include the writing style checker and tone detection. Grammarly add-in can detect passive voice in your writing while suggesting sentence rewrites.
The premium version of the proofreading tool has more grammar check functions. Sound more confident, remove repetitive phrases, and fix your grammar punctuation with Grammarly Premium. 
Another additional grammar tool is the goal-setting feature. You can set your intent, audience, and domain so that the digital writing assistance tool can tailor its suggestions to your needs. 
Grammarly also provides explanations for its corrections, helping you improve your English writing skills. Check the overall accuracy score of your presentation to see if you have achieved error-free precise writing.
Check Plagiarism
Grammarly doesn't just check for spelling and grammar errors to keep your grammar clean. The accurate grammar checker also has a plagiarism checker on the Premium version to address plagiarism concerns among academic and blog writers who produce English writing.
The software developers of Grammarly ensure that it's also an efficient writing assistant for users who want to avoid duplicate content or accidental plagiarism. Grammarly editor scans your text against billions of sources to look for similar or copy-pasted text. 
Once you have performed a plagiarism check on the program, you can click on the source link to evaluate. Make sure you have appropriately cited relevant authors to avoid getting in trouble.
Download Grammarly to make content writing more ethical and original. Use the desktop editor or integration to access the plagiarism option. 
Just remember this feature isn't available on the basic version.
Uninstalling Grammarly
Removing Grammarly from your PC is as easy as deleting other desktop applications. Just uninstall the desktop app from your computer. Depending on your device, it could be by clicking on the "Remove" button or the "Uninstall" button.
You can still access the online editor on the web to perform grammar checking. The digital writing assistant can still suggest edits when you upload your word file or copy the text to the text box.
However, if you do not use Grammarly anymore, premium users should cancel their subscriptions. That means you won't receive additional writing suggestions like passive voice checks and vocabulary enhancements. 
You can still use the free version for access to writing options. These include basic spellings and grammar suggestions.
Grammarly also has options for uninstalling the online grammar checker from any device while still having access to it anywhere. Even if you switch between desktop operating systems or get a new gadget, Grammarly will continue working if you keep your account.
Grammarly is available on both Windows and Mac. There's also a mobile keyboard that can check your grammatical errors on your mobile device.
Use Grammarly for Your PowerPoint Content
Grammarly is a fantastic editor for grammar checking that helps produce excellent text-based presentation slides. The download process of this proofreading software is easy as long as you follow the steps I mentioned.
I hope this guide on how to add Grammarly to PowerPoint helps you resolve potential writing issues on your PowerPoint file. Students, business, and content writers will benefit from its robust features, especially on the premium subscription.